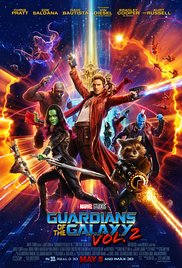 Guardians of The Galaxy Vol. 2
Starring:
Chris Pratt & Zoe Saldana
Advisories:
Coarse & Sexual Language; Violence
Runtime:
136 Minutes
Synopsis:
| Action, Adventure, Sci-Fi |
Set to the backdrop of Awesome Mixtape #2, 'Guardians of the Galaxy Vol. 2' continues the team's adventures as they unravel the mystery of Peter Quill's true parentage.
Showtimes:
Wed Jul 26
12:30 PM
[3D]
|
2:20 PM
|
6:45 PM
[3D]
|
8:45 PM
Thu Jul 27
12:30 PM
[3D]
|
2:20 PM
|
6:45 PM
[3D]
|
8:45 PM
Fri Jul 28
12:35 PM
[3D]
|
2:35 PM
|
7:00 PM
Sat Jul 29
12:35 PM
[3D]
|
2:35 PM
|
7:00 PM
Sun Jul 30
12:35 PM
[3D]
|
2:35 PM
|
7:00 PM
Mon Jul 31
12:35 PM
[3D]
|
2:35 PM
|
7:00 PM
Tue Aug 1
12:35 PM
[3D]
|
2:35 PM
|
7:00 PM
Wed Aug 2
12:35 PM
[3D]
|
2:35 PM
|
7:00 PM
Thu Aug 3
12:35 PM
[3D]
|
2:35 PM
|
7:00 PM
Available in 3D