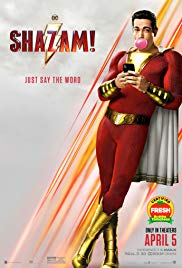 Shazam!
Starring:
Zachary Levi & Mark Strong
Advisories:
Violence & Coarse Language
Runtime:
132 Minutes
Synopsis:
| Action, Adventure, Comedy |
We all have a superhero inside us, it just takes a bit of magic to bring it out. In Billy Batson's case, by shouting out one word - SHAZAM. - this streetwise fourteen-year-old foster kid can turn into the grown-up superhero Shazam.
Showtimes:
Sun May 19
4:40 PM
|
7:00 PM
[3D]
Mon May 20
4:40 PM
|
7:00 PM
[3D]
Tue May 21
4:40 PM
|
7:00 PM
[3D]
Wed May 22
4:40 PM
|
7:00 PM
[3D]
Thu May 23
4:40 PM
|
7:00 PM
[3D]
Available in 3D